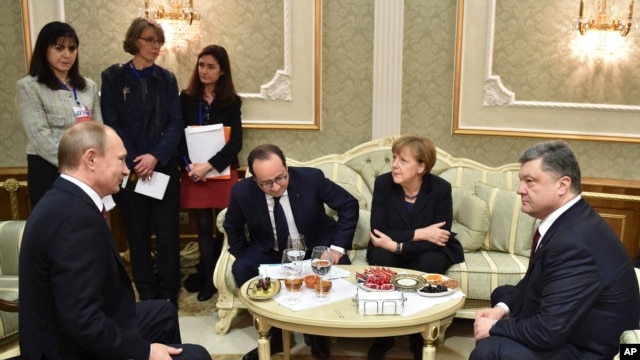 The leaders of Ukraine, Russia, France and Germany are meeting in Minsk, Belarus, to discuss the conflict in eastern Ukraine, as deadly fighting in the region continues.
At least two people died in the rebel-held eastern city of Donetsk when a shell hit a bus station, according to rebel officials and emergency personnel.
Military officials also said rebel attacks near Debaltseve had killed at least 19 soldiers and wounded 78 others.
The surge in fighting in the 24 hours before the leaders sat down in Belarus' capital could be intended to force Ukrainian President Petro Poroshenko to accept a deal recognizing the rebel advance.
Before Wednesday's summit got underway, Poroshenko said Ukraine and the European Union would speak «with one voice.»
The EU is represented by German Chancellor Angekla Merkel, Franch President Francois Hollande, and Russia by President Vladimir Putin.
The four leaders met alone at about 1715 GMT and then went into a full summit with their delegations, Reuters reported.
Poroshenko had earlier described the four-way summit as one of the last chances to end the fighting between his country's forces and pro-Russian separatists, widely believed to be supported by Moscow with personnel and weapons.
Martial law
Poroshenko said earlier Wednesday he would not hesitate to introduce martial law throughout the country if the conflict escalates.
Russian President Vladimir Putin arrived in Minsk about an hour after Poroshenko, Merkel, who met briefly before Putin joined them.
Prior to Wednesday's talks, Merkel and Hollande had visited Kyiv and Moscow last week to speak to Poroshenko and Putin.
Details of a possible peace deal haven't been released. Key sticking points at the talks include drawing a line of division, withdrawing Russian troops and equipment, securing the Ukraine-Russian border and giving the rebels more autonomy.
Hopes for a breakthrough appear slim and likely would depend on Ukraine making most of the concessions, with advancing rebels unlikely to agree to halt and go back to previous positions.
Meanwhile, the commander of the U.S. Army in Europe said Russian military forces are directly involved in the fighting in the Debaltseve area.
Lieutenant General Ben Hodges said Wednesday during a visit to a NATO base in Poland that «direct Russian military intervention» in Debaltseve is «very obvious» from the amount of ammunition and type of equipment being used there, Reuters reported.
Hodges added that he fears the Russian-backed rebels will «shift their attention» to the Ukrainian-controlled port city of Mariupol if the offensive in Debaltseve succeeds.
He also said 10 battalions of Russian soldiers are stationed near the border with Ukraine.
'Cold War' mentality
In an interview Tuesday with BuzzFeed News, President Barack Obama said that Putin had failed to diversify his nation's economy due to a «Cold War» mentality that's isolated Russia from Ukraine and other neighbors.
«I think he looks at problems through this Cold War lens,» Obama said, adding that the consequence of Putin's actions is missed opportunities «to represent something different than the old Soviet-style aggression.»
Obama's interview with the website came on the same day that he spoke with Putin by phone when he urged the Russian leader to support a peace deal, warning him that the costs would rise if Moscow kept aiding the separatists.
The White House also is considering sending lethal military aid to Ukraine, although Obama said he continues to hold out hopes for a diplomatic resolution to the conflict that has killed more than 5,300 people since last April.
Ukraine and a host of Western governments accuse Russia of backing the nearly yearlong rebellion in Ukraine's east with troops, strategic planning and military hardware.
Russia has repeatedly denied direct involvement and says Russian troops fighting alongside separatists in eastern Ukraine are doing so as volunteers.
Trip to Kramatorsk, IMF meeting
Poroshenko, who made an impromptu visit to the war-torn region early Wednesday, stopped in the city of Kramatorsk, visiting people injured Tuesday in rocket attacks as well as the local military headquarters that was shelled the same day.
The talks are also taking place while an International Monetary Fund mission is trying to negotiate a bailout to save Ukraine from bankruptcy brought on by corruption and mismanagement as well as war.
Prime Minister Arseniy Yatsenyuk said the talks were tough but he hoped for a loan deal within days.
Some material for this report came from Reuters, AP and AFP.
http://www.voanews.com/content/leaders-set-to-discuss-ukraine-peace-plan-as-fighting-continues/2638382.html
---